Travel: It is still Christmas in Bethlehem ...
The Christmas crèche at the Church of the Nativity, Bethelehem. Photo credit: RACHEL RIGBY
 BETHLEHEM -- If you love celebration, you will be delighted to know that it's still Christmas in the birthplace of Jesus nestling in the Holy Land. It's possible to celebrate it three times a year in Bethlehem, starting with the Roman Catholic and Protestant ceremonies on Dec. 25, the Syrian, Greek and other Orthodox Christians on Jan. 6, followed by the Armenian Christians on Wednesday, Jan. 18.  I took a trip with Tourist Israel https://www.touristisrael.com/destination/jerusalem-tours/ that includes a morning in Jericho, a dip in the Dead Sea, and a wizz around Jerusalem before entering Bethlehem in the Palestinian West Bank on the afternoon of Friday Jan. 6.



 I was surprised to find Christmas still in full swing, streets of lights, people dancing and singing, and the tree in the town square still ablaze. A tall Ethiopian man wearing blue was leading a marching band to the Basilica of the Nativity, one of the oldest surviving Christian churches in the world.

 We left the loud drums and music in the plaza to go into the Basilica. The Palestinian army does a mandatory security check as we enter. In 2014, the Palestinian Presidential Committee asked the Greek Orthodox and Armenian Apostolic churches and the Franciscan order of Roman Catholics who share custody of the site, to help fund renovation work. Pope Francis came for an inspection of the Church before work began. 

 The Italian company Piacenti S.P.A.  was commissioned for the repairs and uncovered a seventh mosaic angel last year, using a thermography technique. Despite the scaffolding that remains around the roof and walls one can see the brilliant mosaics clearly.

 Our tour guide Martin Handal, explained about the mosaics and why the renovation work is essential. "There was leaking in the roof of the Basilica, ruining all the paintings and the building was falling apart. Nothing had been done to maintain the church since 1479.  We are so happy that the Pope and others granted funding for the renovations. Now we are able to see what the Mosaics from 1169 are like. The restoration experts also treated the pillars specially with iconic paints. The pillars used to be dark but now the paintings on them are clear and lighter." 

 Martin walked us to the cave where Jesus was born, the Grotto of the Nativity, which is next to a small flight of steps by the church altar. The excess of crowds means the line is long. It will be closed to tourists during Mass later that day.

 We decide not to wait to get into the Grotto and leave the packed church, back into the crisp air. I ask Martin if the town is always so vibrant as it is now. 

 "It is nice to come here any time in the year but Christmas time is more special," Martin smiles. After the tour he takes us to a Palestinian restaurant, Sababa. The owner explains to me that, the next evening, Jan. 7, his restaurant will be hosting a dinner for 250 Greek Orthodox guests. It seems as if Bethlehem, which has been under Palestinian government control again since 1995, has succeeded in its residents co-existing peacefully.

 After dinner we drive 40 minutes to Jerusalem which is 70 M higher than Bethlehem and a bit cooler. In winter you need a scarf and jacket, especially at night.

 The next morning it's sunny so I wander the streets of Jerusalem on my own. I make my first stop at the Church of the Holy Sepulchre, the place where Jesus died on the cross. Again various denominations share the church, including the Armenian and Greek Orthodox, the Roman  Catholics, Ethiopians, Syriacs and Egyptian Copts. The factions argue so much that a Palestinian Moslem family was chosen to keep the keys. 

 Every morning,  a member of the Adeeb Jawad Joudeh family opens the door to the church for the Christian monks, and has done this since the keys were given to the family in 1187 by Sultan Saladin.

 I leave and pass the Redeemer church, for protestants, to get a closer look at the Muslim mosque, with the Golden Dome, the Dome of the Rock. Upon reaching the gate  I am told in very unchristian terms,  by both Moslems and armed guards to come back during tourist hours as the Dome is closed to non Moslems in the afternoon.

 Feeling tired of the tension in the air and of bumping into heavily armed guards on every street corner, I find a welcome retreat outside St Anne's Basilica, just off the Via Dolorosa near Lion's Gate. The gardens are tranquil and behind them lie a series of ancient pools. The story is that Jesus healed a paralytic here. 

 Inside the Basilica five people are singing christmas carols in Italian. I ask them what brings them here. They are Italian and have just completed a pilgrimage to Nazareth and the Jordan Valley 

on foot.  They were also in Bethlehem for the Catholic epiphany on Jan. 6 and had been to the service at the  Church of St. Catherine, which is right next to the Basilica. They were allowed after the Catholic mass to go to the grotto, they tell me. 

 Of the 300 people attending mass there were at least 70 Italians,  Maurizio Minchella, the leader of the Pilgrimage explains.  "It is my dream to walk from my home in Milan all the way to Jerusalem as our forefathers did. It would take six months to walk but problems in Turkey and Syria currently prevent us from doing it," he adds. Maurizio is from a  confraternity called Confraternita di San Jacopo Lombardia. 

 Father Peter Smith from the Catholic missionary order of the White Fathers runs St Anne's and gives me a sneak peek of the new pilgrim centre to open soon. Since many Catholic pilgrims believe that the Virgin Mary was born here (although there is no historical evidence) the church will also be opening a museum in two to three years time that is dedicated to healing and the birth of Mary.  Fr. Peter says that 1,000 pilgrims come per day in high season to worship at Saint Anne's. It is just one of several amazing historical and religious findings I make along the Via Dolorosa.

 Leaving reluctantly, I continue on to the Mount of Olives. I was told it is a short walk from Lions Gate but it definitely is not - so take a tour or the bus. Once at the top,  I enter the Mosque of the Ascencion. I find a small patch of rock with a bottle shape in the middle, boxed into the side of the church with a large donation sign next to it. 

 What's this? I ask the Arab gate keeper. "The imprint of Christ's foot as he rose to heaven," he says, poker faced. It looks a little like a foot print but wouldn't Christ have ascended to heaven on two feet?

 And why is this a mosque and not a church? I ask the door keeper, again.

 "It used to be a church but then the muslims took it over after the siege of Jerusalem in 1187 and made it into a mosque," he replies. 

 It's the same old story in Jerusalem, the constant shifting of ownership and battles. How ironic that what is perhaps the most fought over city in the world actually means "City of Peace." 

 Continuing back to Jerusalem is easy, I just have to follow the road down of Mount of Olives towards the golden domed mosque, the Dome of the Rock.

 On my left hand side, I pass a large cemetery. Apparently a grave stone on the Mount of Olives of Ascension costs over EUR 250,000. If you are buried here, when the Messiah comes, you will have priority getting into heaven, according to Jewish tradition. 

 Directly opposite the graveyard the gold dome of the mosque shines. I wonder how many  of his flats in London the King of Jordan had to sell to finance this beauty of a dome.

 As an end to my tour in Jerusalem, I descend finally to the garden of Gethsemane, where Jesus was betrayed. The centuries old olive trees exude a shroud of mystery and solemnity, and one can really imagine Jesus here, at his darkest moment, betrayed by Judas.  But then again they aren't sure that this Olive grove is the same one where Jesus was sitting when the Roman soldiers arrested him.

 My Jerusalem tour guide Yana opines that "it's one of the few places where the story and faith becomes much more important than fact." 

  I can't wait to go on more tours with Tourist Israel to rediscover the many other Biblical stories around the country, where they may or may not have taken place.

 jp-rr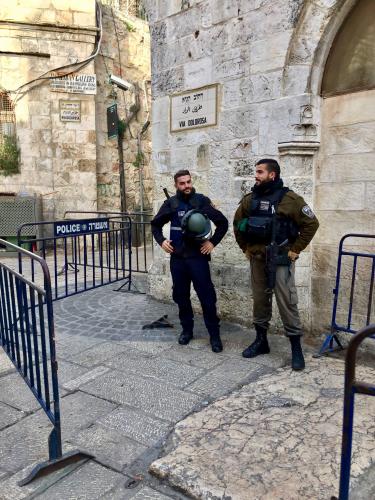 Israeli policeman and an Israeli soldier at the Via Dolorosa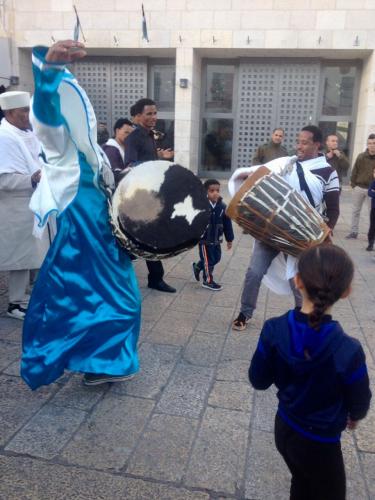 Ethiopians marching to the Nativity church playing music