Rio postcard: Olympics 'better than Italian soap opera'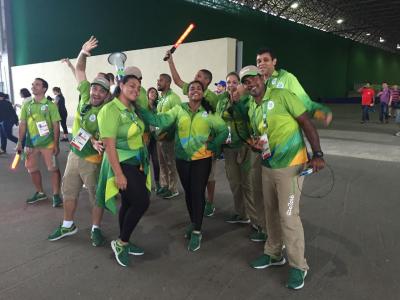 Dancing ticket staff greet Olympic fans in Rio. PHOTO CREDIT: RACHEL RIGBY
 RIO DE JANEIRO -- An Italian couple from Rome I met on the train going to the Olympic games today were not sure they should fly all the way to Rio for the event but they are now very happy that they did.
 "Rio was the right place to hold the Olympics this year. Brazil gave not only their most beautiful city to enjoy, but even gave us their most beautiful woman, Gisele Bundchen, on the opening night. " Giovanni, the Italian husband said while getting dirty looks from his wife. (come on who doesn't fancy Gisele?)
 "We had heard that Rio would not be prepared for the games. These rumours were unfounded - look at this impressive modern and clean tube and bus system direct to the Centro Olympico." Giovanni added.
  We are indeed sitting in a clean, well air conditioned, train with people from all over the world.
 On arrival at the ticket venue, typical  of the Brazilian spirit, ticket attendants are dancing as they greet guests. The concession stands and facilities at the Games are spotless and tourists can try Brazilian foods like Acai, from the Amazon, pipoca (popcorn), and local drinks such as guarana and Skol.
 Italy has won eight gold medals so far, with four of them in shooting.
 My personal favourite was watching Tania Cagnotto, the Italian diver who took silver in the synchronized springboard event last Sunday, and  won bronze in the individual springboard after trying to win a medal for the last five Olympic Games.
 A daughter of two Olympic divers it's taken her 16 years to achieve her dreams. The ultimate game of the Olympics however is tonight's football because Brazil has just won its most important gold medal. The Brazilians have won a much  needed revenge against Germany who had beaten them 7-1 in the World Cup in 2014. And it's the first time for Brazil to win on home soil.
 It's with sadness that I leave the games today realising that there's only one more day left. What an exciting last two weeks it's been.
 We have had burning fires, drugs used by the Russian team, make believe gun point robberies, lying American gold medalists, and drunken and disorderly Australian Olympians, what more can you ask for? It has been better than an Italian soap opera and to top that off we were even able to see athletes compete for the first time ever on a Refugee Olympic Team.
 I enjoyed the Rio Olympics even more than the London games in 2012.
 Japan has a tough act to follow in 2020.
Italian couple travelling to Olympics. Photo: R.Rigby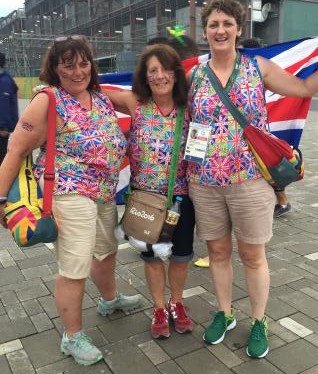 British fans in Rio. Photo: Rachel Rigby